Rideshare Program
Carpooling and vanpooling are popular modes of transportation. All across the country, many commuters choose a form of rideshare as a convenient and more economical option. For some, it is the only option when more traditional modes such as buses, trains or light rail cannot fully accommodate their needs.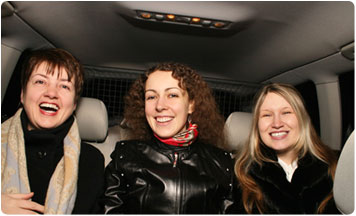 The Hudson TMA encourages the use of carpools and vanpools to help reduce congestion of our roads and highways. It is a win-win for everyone. By participating in a carpool or vanpool, a commuter can save thousands of dollars per year. More importantly, studies show that those who drive alone experience higher blood pressure, fatigue, stress, mood swings and have a lowered resistance to illness. Carpooling and vanpooling allow commuters to enjoy the company, take advantage of the time, and enjoy the ride.
Specific benefits:
Money saved by reduced car maintenance costs due to less wear and tear, lowered insurance rates, sharing the cost of gasoline, tolls and parking.
Reduction in traffic.
Improvement of air quality by the reduction of greenhouse gasses.
Conservation of non-renewable energy resources and a decrease in our dependence on foreign oil imports.
Savings in travel time.
Improvement of your mood and decrease in daily stress.